MEMORIALS
Caen Mémorial
Type: Physical memorial
Location: Caen
Country: France
Creator: Jaques Millet
Dedication year: 1988

Added: 8/31/2009
Updated: 10/18/2010 10:45:40 PM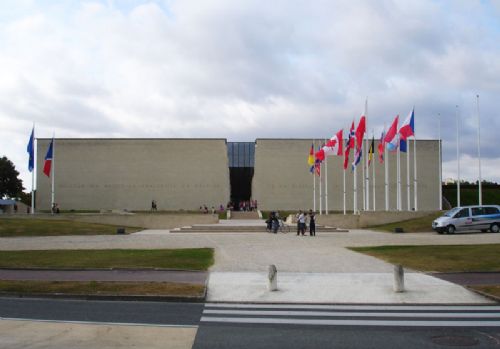 Photos from top left: 1. The main entrance | By: Jon Brunberg | License: © | | enlarge 2. Exterior from the park | By: Jon Brunberg | License: © | | enlarge 3. The foyer | By: Jon Brunberg | License: © | | enlarge 4. Nobel Peace Prize Gallery | By: Jon Brunberg | License: © | | enlarge 5. US memorial garden | By: Jon Brunberg | License: © | | enlarge 6. US Memorial Garden | By: Jon Brunberg | License: © | | enlarge 7. 'Non-violence', sculpture by C.F. Reuterswärd | By: Jon Brunberg | License: © | | enlarge
Caen Mémorial is housed in an impressing building located in a park just north of Caen's ring road. It was founded by the then Mayor of Caen Mr Jean-Marie Girault and inagurated in 1988 as a tribute to the damage that the city suffered as a result of the battles of World War II.

The permanent exhibition is divided into several sections, starting with the time between the two world wars ('The Failure of Peace'), World War II and the cold war era. Visitors are taken through the first section into a spacious underground gallery where the WWII exhibitions continues. The section including the post-WWII era is shown in a separate section. At the foot of the cliff that the main building rests on is the Nobel Peace Prize Gallery. There are large spaces also for temporary exhibitions and several cinemas.

In the park that around the main building there are memorials to the US, Canadian and British forces that took part in the invsion of Normandy in the park that surrounds the main building.

To see all the exhibits, the park and the main movies you should expect to spend at least six hours in the museum. The normal fee is around €14 with several discount programs.
POSTED BY JON BRUNBERG ON 8/31/2009
blog comments powered by

Disqus