MEMORIALS
Sowjetisches Ehrenmal in Treptower Park, Berlin (Soviet War Memorial)
Type: Physical memorial
Location: Berlin
Country: Germany

Added: 8/31/2009
Updated: 5/5/2014 12:10:59 PM

Sowjetische Ehrenmal is perhaps Berlin's most spectacular war memorial. It was built 1946-1949 to commemorate the 20,000 Soviet soldiers that fell in the battle of Berlin in April-May 1945. It is located in the heart of the calm gardens of Treptower Park close to former East Berlin's embassy quarters.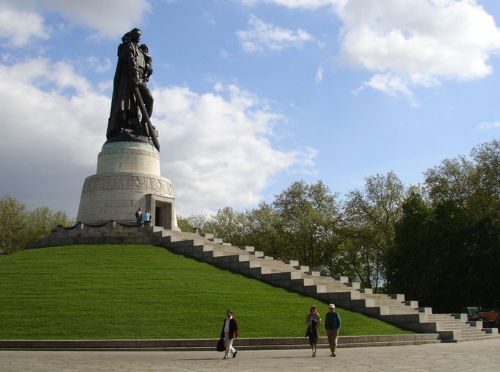 Sowjetische Ehrenmal is indeed a fine example of a typical Soviet monument from that time. Even though there are no images of the Soviet leader to be found in the memorial area, Josif Stalin is highly present in the many quotes found on the friezes that are placed on both sides of the open space. This memorial can be seen as a gift from Josif Stalin to the collective of soldiers and their families, but it was also a remainder to the East Germans that they should not forget that it was the red Army that liberated them from the Nazis. Sowjetisches Ehrenmal still serves as a living memorial for Red Army veterans who regularly hold ceremonies at the location where they lay wreaths at the mausoleum to honour their fallen comrades. Some images from the ceremony to mark the 60th anniversary of the battle of Berlin can be viewed here.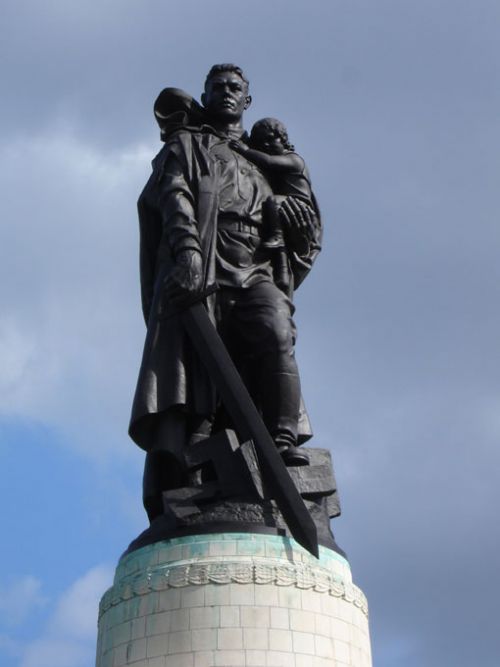 A visit to the memorial begins at entrances from the south and north. After a short walk visitors are entering the memorial area between two vast fifteen-meter high triangular forms in red granite. The entrance is in itself spectacular. A 200 metres long and 100 meters wide square follows. Six bronze-cast wreaths measuring around ten metres in diameter are placed in squares in the middle section. The pathways around these are beautifully decorated with ornamental forms in white. Beside the pathways friezes have been erected with reliefs displaying war scenes and historical moments. On each of these you will find a quote from Stalin.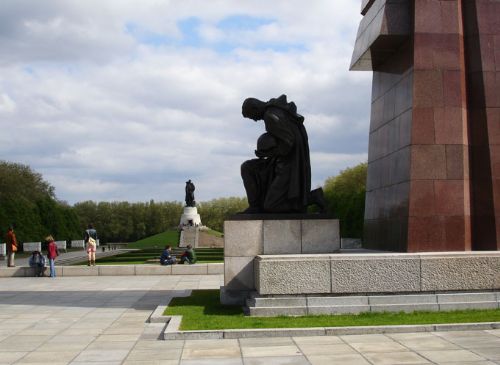 The most spectacular element of the memorial is towering up in the rear end of the park on a grassy hill. It is a mausoleum on which a ten to twelve metre high bronze statue is placed depicting a bareheaded, heroic, Soviet soldier wielding a sword and standing on a smashed swastika, into which the sword is deeply cut. On his left arm he is carrying a child while staring out over the plaza.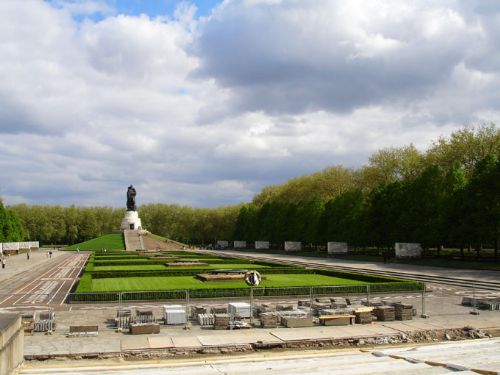 When I last visited The Sowjetische Ehrenmal two years ago it was in the process of being renovated, which clearly shows that it is viewed by the city of Berlin as holding a touristic value.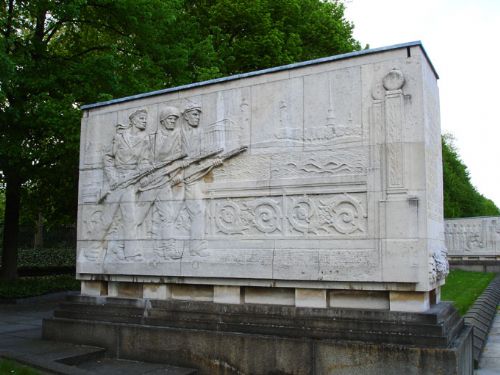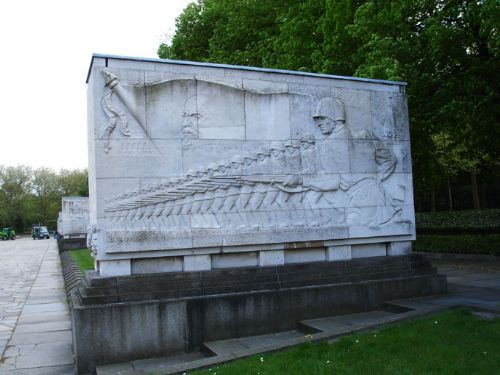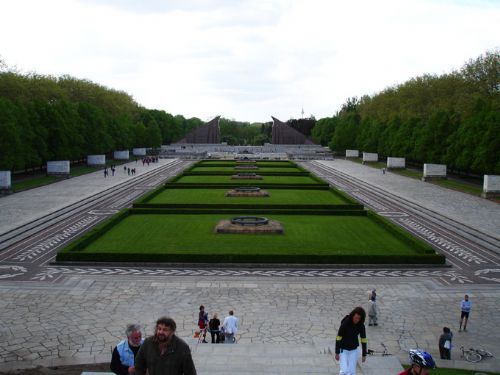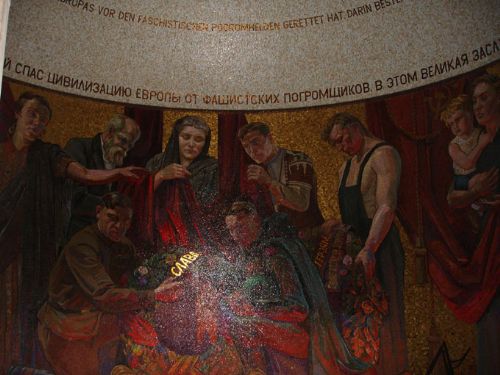 ----------------
RELATED ARTICLES
----------------
Images from the ceremony to mark the 60th anniversary of the battle of Berlin
All photos © Jon Brunberg / The Polynational War Memorial if not otherwise stated.
POSTED BY JON BRUNBERG ON 8/31/2009
blog comments powered by

Disqus